2030 SDGs Game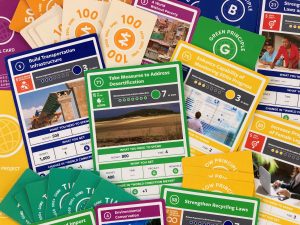 Organisation name: The Univeristy of Liverpool
Organisation location: United Kingdom
Category:
Sustainability
Sustainable Development Goals
Short summary: This opportunity is only open to students of the University of Liverpool: A thought-provoking multi-player facilitated card game simulates what the world could look like in 2030. The 2030 SDGs Game highlights the importance of balancing the three pillars of People, Planet and Prosperity and brings sustainability to life. Participants in the simulation receive time, money and projects, and decide how to invest their resources and which projects to run in order to work towards achieving their goals. What will be the impact on the world of the projects they play? Will they create a prosperous, fair and sustainable world? The event is open to any student of the University of Liverpool and will take place on Wednesday 16th. of March between 1pm and 4pm on the main Liverpool University campus (room to be confirmed) and it will be limited to 100 students across all the faculties.
Description:
Participants playing the 2030 SDGs Game learn through play and experience a change in perspective, they feel more connected to the challenges we all face and are more ready to take action.
Come and participate in the 2030 SDGs Game workshop in order to:
• Understand relevance of sustainable development
• Demystify the SDGs
• Experience first hand what it takes to create a balanced world and how everything is are interconnected
• Explore the power of your actions and how you can contribute to a more balanced world.
Who can play the game?
Anyone can! Whether you have no prior knowledge of the SDGs or you are an SDG expert you can play this game. The game has been played by people all over the world from senior management of leading global companies, government official, to university students, activists and everyone in between. The more diverse the game participants are, the more representative of society it is.
To participate in this game please express your interest by emailing: valeria.andreoni@liverpool.ac.uk
UN Sustainability Development Goals
No Poverty
Zero Hunger
Good Health and Well-Being
Quality Education
Gender Equality
Clean Water and Sanitation
Affordable and Clean Energy
Decent Work and Economic Growth
Industry, Innovation and Infrastructure
Reduced Inequalities
Sustainable Cities and Communities
Responsible Consumption and Production
Climate Action
Life Below Water
Life on Land
Peace, Justice and Strong Institutions
Partnerships for the Goals
When does the project start? 28/01/2022
Status: In progress