#2minutebeachclean Infographics
Organisation name: Beach Clean Network Limited
Project title: #2minutebeachclean Infographics
Location: Bude, Cornwall
Type of project: Arts and Design
Short summary: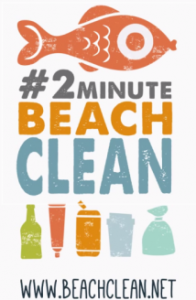 We partnered with Serena Ripoli an MA Digitial Media Practice Student from the University of Winchester. The aim of the project was creating a set of three brand-consistent and user-friendly infographic boards for the 
#2minutebeachclean
 campaign, displaying the data on litter collection extracted from the app. A link to the completed project can be found
here
.
What I am looking for:
Why did you decide to get involved with DfG? What did you hope to get out of it?
As a small not for profit organisation, it is difficult for us to fund the analysis and presentation of the data we collect so this project offered us the opportunity to get this work done and hopefully help a student get some valuable experience for their future career.

Have your experiences matched your original expectations?
Very much so. Serena was really engaged with the project and took the feedback provided really well.

What were the main benefits of working with a student on a DfG project?
Whilst projects like this aren't all about the funding, this has given us the opportunity to present some infographics in a fun but informative way, that we may not otherwise have had the opportunity of doing.

What were the main challenges of working with a student on a DfG project?
You have some concerns at the start that maybe you will need to dedicate a lot of time & supervision and you may have some reservations about the quality of any outputs but the reality for us, was that the final outputs were really well put together.

What knowledge has your organisation gained as a result of completing a DfG project?
That working with students is a rewarding experience and something that we would certainly consider doing again.

Has your organisation made any immediate changes as a result of completing a DfG project?
Not as yet but our hope is to include some of the outputs in our future publications.

What specifically prompted these changes?
The purpose from our perspective was to have some usable statistics and data that we could use in publications and we now have that.

Looking to the future

What kind of long-term impact do you think this project will have for your organisation?
Hopefully the publications that we are able to produce using the outputs provided, will be impactful and help the public engage with the work we are doing but also, be a good source of information when submitting applications for funding.

What advice would you give to other organisations looking to get involved in DfG?
Just do it. It's an amazing project and not only do you give the student some invaluable real world work experience, you might learn something too.
Project category Plastics/ Arts/ Communication
When does the project start? The project is now finished
Status: