Pilot 2018 – 19
Placements for Good – Celebrating and Learning from our 2019 Pilot
Over the summer of 2019 we held our first ever pilot programme for Placements for Good (PfG). We would like to say a massive thank you to all those who took part, from the universities and organisations that contributed to the development of the concept, and to the students who participated and shared their learnings and experiences.
Three universities from South/South West England and Wales participated in the pilot:
University Centre South Devon
Southampton Solent University
University of Wales Trinity Saint David's, Carmarthen Business School
Included in the model for the pilot was a pre-placement training day that all students participating were expected to join. This ran in June 2019, hosted by University of Bristol Students' Union and we invited a small number of Bristol students to join the day. 25 students and staff participated in the day exploring the role of students and graduates as sustainability professionals working across sectors. Key themes for the day included: carrying values with integrity into the workplace, taking action (as professionals and global citizens) for the United Nations Global Goals for Sustainable Development, and workload prioritisation and project planning.
Feedback from the training day was fantastic with staff stating they would like to see this offered across their whole institutions to all students required to undertake placements and students coming away feeling equipped to start their placements and motivated to create positive change as professionals. If you would like to get in touch about future PfG training days, please get in touch.
PfG training day feedback:
"…the training definitely helped me with planning out my tasks thoroughly before attempting them. I can go through work in a very methodical way and it has also given me more confidence in my own abilities and in the workplace in general." – PfG student participant, 2019
"I think the training helped me to shape my placement by having a clear idea of what I wanted to achieve during it. I also found the project planning part of the training helpful, as I hadn't worked like that before yet was expected to project plan in that way straight away once I started my placement." – student, 2019
Over the summer, students took up placements with a range of organisations from Egni Solar Cooperative in South Wales to The Bay Trust, an environmental education charity near Dover.
Some highlights from this summer's placements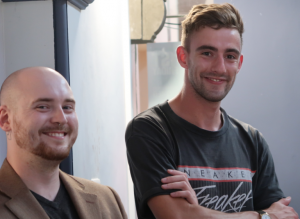 Two UWTSD students were placed with Egni Solar Cooperative for the summer contributing towards the growth of their solar share offer. This was a fantastic experience for the Carmarthen Business School students, who were required to undertake a placement as part of their course. They took on high levels of responsibility promoting the solar share across Wales and presenting on the work of Egni at conferences across the UK. Over the course of their 2 month placements, they managed to support Egni in reaching £473,000 of their target £750,000 in shares for installation of 5,000 kw solar on 250 sites across Wales. This will save the sites £8m over the next 30 years and prevent 35,000 tonnes of carbon emissions. More information on this placement can be found here.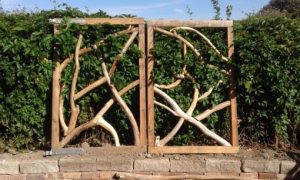 Another fantastic example of a student turning their skills, knowledge and passion into something impactful is Dan's placement with the Bay Trust. During his placement he focussed predominantly on the re-use and recycling of old materials into new and useful purposes around the gardens at the Trust, this included the construction of a beautiful pair of gates from an old jetty. Find out more about Dan's placement at the Bay Trust here.
"As the new CEO of The Bay Trust I am delighted that we were able to participate in the national pilot of this scheme.… He [Dan] helped to co create a beautiful set of gates which will always remind us of him and we wish him every success with championing how to reduce the impact of climate change and our carbon foot print in the coming years as he completes his degree.  Thank you Dan for all your hard work and effort" – Carrie Jackson, CEO, The Bay Trust
Overarching feedback from the pilot:
All participants' expectations were either met or exceeded
Following their placements all participants agreed or strongly agreed that they have the skills and experience needed to take on a volunteer role working on sustainability and / or social responsibility issues in the future
They also strongly agreed that they would like to work in a job that contributes positively to sustainability and/or social responsibility in the future
We also found that all students who participated would now like to integrate their concerns with the environment/ society into their professional roles
When asked what they most enjoyed about their placements feedback ranged from the specific tasks and responsibilities they were given to the learnings obtained from the experts they were working alongside. It is clear that the levels of responsibility students were given through their placements had a huge impact on their confidence and self-belief.
"The most educating part of my experience at the Bay Trust/ the area in which I learned the most was definitely in listening to Dave and hearing his opinions and insights into the ways in which environmental education and the public attitude toward the environment have changed over the course of his career." – PfG student participant, 2019
 "Placements for good has increased my overall knowledge of how to function in a career-based setting. Tackling social issues has always been something I have been interested in, and NUS has helped me implement that into my work." – PfG student participant, 2019
"There is only so much you can learn in a classroom which is theoretical and constantly supportive." – PfG Student participant, 2019
"My placement has very much increased my employability by showing me how the job role works, what standards of professionalism are expected and also giving my practical experience in using programmes like mailchimp, wordpress, cpanel...etc. I would advise any student to give a placement a go!" – PfG student participant, 2019
 "Expect to be challenged but try and take it in your stride. It is okay to not get it, just ask!!" – PfG Student Participant, 2019
Next steps
We are excited to be continuing our journey with developing Placements for Good and offering opportunities for students and organisations to work together for progressing sustainability and social responsibility.
We are now offering access to Placements for Good as part of our For Good platform for all students in the UK. Where a university or college is a member of the For Good platform we will give students more active support to find partnerships, however all students can join the platform and search for current opportunities and apply for them.
In keeping with NUS and SOS-UK ethics, we will only support placements which provide a minimum of the Real Living Wage to ensure placements are accessible for all students.
If you are an organisation interested in offering placements through our For Good platform, please get in touch so we can discuss organisation membership to the platform.