Serena Ripoli #2MinuteBeachClean infographics
Student: Serena Ripoli
Project: Serena Ripoli #2MinuteBeachClean infographics
Project category: Communication and engagement
Short summary: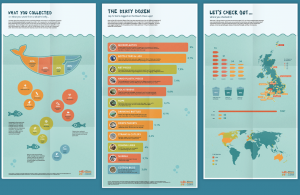 The aim of the project was creating a set of three brand-consistent and user-friendly infographic boards for the #2minutebeachclean campaign, displaying the data on litter collection extracted from the app. Link to completed project.
I found out about NUS for Good through an advertising banner at the University of Winchester. I then contacted the organisation through the For Good platform as they were offering a research partnership and I continued our correspondence via e-mail and we agreed on this infographic project
Detailed summary:
Motivations and experience
Why did you decide to get involved with DfG? What did you hope to get out of it?
My main motivation for getting involved in NUS For Good was finding a partner institution to collaborate with for my Infographic Communication module and engaging in a project with a good cause. University projects usually end up not having a real-life impact and going lost or forgotten; this can become frustrating after four years of higher education.
Have your experiences matched your original expectations?
My experiences have matched and exceeded my original expectations.
What skills have you developed through completing a project with DfG?
I have improved my graphic and information design skills; I've also dipped my toes into data analysis for the first time.
What knowledge have you gained as a result of completing a project through DfG?
I have learnt a lot about the impact of human behaviour on the marine environment.
Have you made any changes to your lifestyle as a result of completing a project through DfG? E.g. changed your behaviour to be more sustainable
I've become more conscious about my plastic consumption and how much waste I generate every day. This has led me to refusing plastic straws in bars and restaurants, to avoiding plastic bags at all costs and to using a steel bottle for water.
If yes, what about the project has prompted these changes?
Analysing the data about marine pollution enlightened me about how much damage we are doing to our planet and raised my awareness about the problem.
What was your highlight of doing a NUS For Good project?
My highlight was definitely receiving all the raw data and selecting information that could be translated into visual form and have the biggest impact on the audience.
What did you find most challenging about doing a NUS For Good project?
The data analysis was the most challenging part; I had never done it before in such a structured way, and I didn't know the software or functions needed to complete the job.
Looking to the future
Do you think your experiences of working with your partnered organisation through NUS For Good will improve your chances of getting a job when you leave university or college?
I definitely believe so.
How and why?
NUS For Good has given me the unique opportunity of working on a real-life project brief for the first time and collaborating with an established organisation.
What improvements, if any, would you make to NUS For Good?
Projects and dissertations should be visible even if you are not logged in. I think many people might abandon the website because they don't want to go through the process of registration.
What advice would you give to other students looking to get involved in NUS For Good?
I would definitely recommend getting involved in this initiative and trying to learn as much as possible from it.
University: University of Winchester
Course: MA Digital Media Practice: Visualisation